Well Gents it's been awhile... Hope everyone is doing good and enjoying some ride time...anyways thought I would post some minor things I've done...
First off Exposed shocks... Love them, Don't know why we don't have them... So I made them!  Really easy..
1) Adjust shock to the lowest (softest) setting, and remove shock assembly.
2) The top of the shock is just screwed on the shaft with a lock nut keeping it in place. Somehow wedge the cover down a bit, and shove a 17mm box end wrench in there and loosen the lock nut. Then spin off the top.
3) Now chase down the parts that shot all over the garage. :) You will have the following parts;
- The shock with the bottom mount on the shock body, and a threaded shaft coming up.
- The spring. Late models are painted black and tight. Early models are not painted, and a little looser.
- The top chrome cover. This will be removed.  It makes a very cool chrome beer holder.
- The bottom chrome cover. It is slightly smaller than the top, and slides inside it.
- The chrome adjuster cover. About an inch and a half tall. Covers the adjuster.
- The top mount, and lock nut. (Actually the lock nut is probably still on the threaded shaft...)
Remove the big top cover. You will use the small cover in it's place. This is because the lip on the top mount is not solid enough to hold the spring. The chrome covers are also spring mounts... So with the bottom on the top,(I cut it to the same length as the Adjuster sleeve just to match.) and the adjuster cover on the bottom, you still have solid mounts, but just over half the spring is not exposed.
4) Reassemble, and tighten the lock nut.
5) Reinstall.
6) Have beer in new chrome beer holder lol...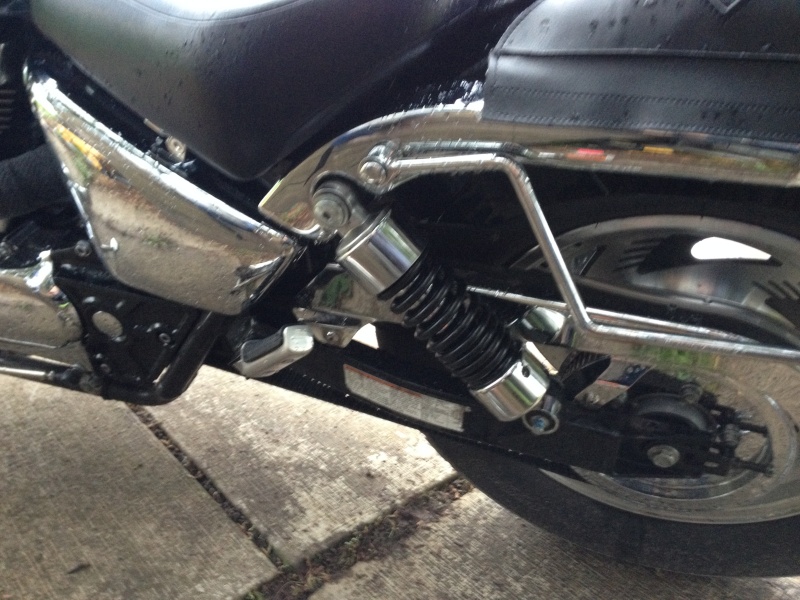 Some other mods... Forward controls and pipe wrap...