Hi Andrew,
You should be fine with that Shell AX7 oil for your VX (or any other Suzuki 800).
As you identify, it is a semi synthetic oil, and it is rated for motorcycle use - supported by the JASO MA2 rating which identifies it as being suitable for wet clutches.
I have been using a very similar oil from Silkolene in my VX & have not had any problems with it (Again found at a good price).
I like the sales blurb .... & wondered if I could use it to oil some of my 'other parts' if it provides an 'enjoyable ride !' ....
...... Yeah BABY !!!!  
Opinion may be divided on the use of engine oil flush. I personally do not use it. But I always take the bike for at least a 15-20mile run prior to changing the oil. It is important to get the oil properly warmed up as it helps to get the contaminants into the flowing oil and therefore out of the engine when you drain the oil. You do have to take precautions to prevent 'burns' from the oil when you undo the sump plug - but a bit of care and you can mange fine (even without gloves).
I'm not saying you shouldn't use engine flush, I just believe it is less necessary that proper/frequent oil changes. I'd rather spend money on new oil than flushing lotion !
Now - I'm not sure how many people are aware of the 'health & safety' issues surrounding oil changes, besides the risk of oil burns, it is recognised that used engine oil is a carcinogen (Can cause cancer - skin cancer type conditions I believe). For the last ten years or so it has been recognised practice for mechanics to wear at least disposable gloves whilst changing engine oil.
I am a typical miscreant and do not tend to use gloves - but I normally apply barrier cream before doing work on the bike or car. This is largely because I still have a supply of barrier cream from when I did GRP lamination work ! ... I do have a box of disposable gloves somewhere ... but I seem to give more of them away to other people than use them myself - this is a 'learning point' for me - I should do better. I thought it worth sharing - but I do 'my own thing'  anyway -rather than follow the rules, as I guess most of us do.
One thing I picked up recently that was on offer at a motor-factors was a low profile oil drainer pan.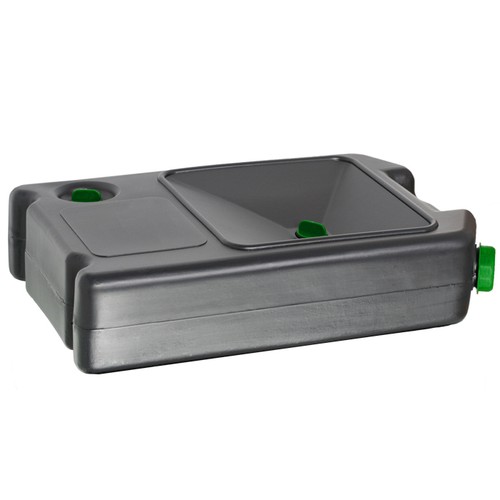 This replaces the 'home-made' 5-litre poly can that I've been using for the past 30-40 years.
I liked the 'low profile' which will be useful for some cars I have worked on .... also a nice funnel to catch the waste oil, and the container can be sealed & used to take the waste down to the local amenities site (You could decant it back into an old oil container is you wish to 're-use it .... like those Yorkshiremen that paint their garden fences with it !!!!! )
This was an impulsive 'treat', but I am pleased with it & it is great for servicing the 'VX'.  
Hope that helps some of you
 ..... &  I like the new layout Dave ... 
  Thanks again to Dave for his continued work in further enhancing a great forum site  
  Yam