Hi all. 
Names Adam but for the sake of the inter web you can call me MADMaN. 
So I should start from the beginning. 
I've only been riding since 2012. My wife of all people told me 
"You should get you motorbike license"  to which I replied 
"Do you have a life insurance policy on me?"
Shortly after that I booked my "Pre Learners Course" (an 8 hour 2 day course about $80) then completed a knowledge test (about $38) and then have to noted it on my current drivers licence ($28). 
Now I need a ride! Along come the Yamaha Virago XV250. $2500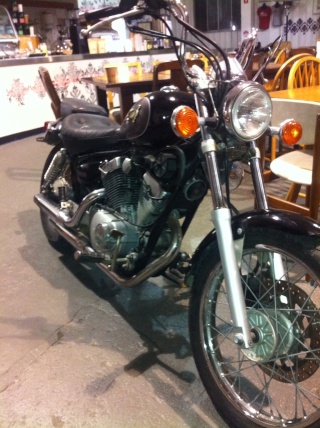 After a few months general maintenance, some paint here and some cleaning there my custom bobber/cafe racer was read to be unleashed on the public. 
So after 12 months on my L's it was time for my P's ( a full day course with a road ride followed be a rider skill test at the end of the day. About $180
(as being a fully licensed car drive and being over the age of 25 I only had to hold my L's for 3 months but chose to rider the full 12months) 
I held my P's for 12 months (then paid another $28 to note I was a full rider on my licence)
So now we come to the reason I'm on the Suzuki800 forum. 
I've just bought a 91 Suzuki VX800. 
The fun now begins, I'm looking at 
Satin black paint 
New Fork Seals
New tyres
New bars, grips and mirrors
New fuel and vacuum lines
Drop coolant, oil and filter
Lower the rear suspension about 2"
Clean exhaust and heat wrap
New indicators, taillight and headlight 
Basically I'm looking to keep the bike simple but personalise it to suit my style.
Really looking forward to using this forum to update my knowledge of the VX800 and use some know how from the Intruder riders.
Cheers