So my bike was looking a bit shabby on the tank thanks to careless previous owners.
The only real solution is a respray I think.
But as a quick fix I thought Id try the TURTLE WAX BLACK BOX kit, and have photo'd the process as a before and after exercise.
Heres what you get in the box:
A pre cleaner
A detailer spray
two microfibre cloths
A small white cloth
A sponge wax applicator.
A black carnauba wax
The images in sequence are:
1)  ORIGINAL 
2)  PRE CLEAN APPLIED
3) DETAILER AFTER PRE CLEAN
4)  CARNAUBA APPLIED
5)  DEATILER AFTER CARNAUBA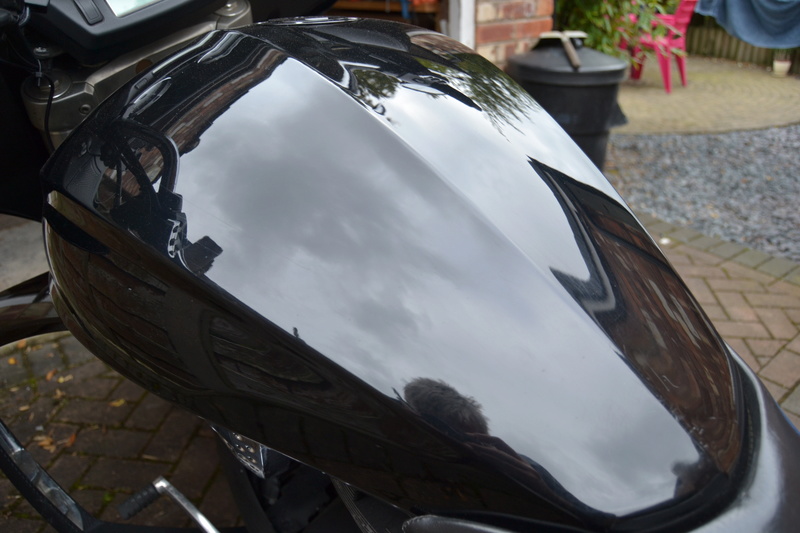 Verdict? Its OK, rather than brilliant. At least you don't get the powdery white residue which seems to cling to the black paint, as you get with something like ordinary autoglym.
I guess I was hoping the black tint in the products would fill the tiny scratches, but that doesn't appear to be the case.
I got it on special offer from Euro Parts with a discount code for about £14. Glad I didn't pay much more!!
It seems a bit counter intuitive as well to rub on a carnauba wax, then almost clean that off with the detailer spray! But thats what the instructions say :)
PS, no, Im not keeping the yellow gaffer tape seat mod!
Save
Save
Save
Save