Hi,
Just a brain dump to help anyone else servicing coolant on a Sachs Roadster 800. Hope this helps one the 1000 or so people that have one.
First, the Sachs Roadster 800 had 3 types of radiator system fitted;
a) a double radiator, with a pressurised plastic expansion tank (1 bar cap) that often failed (pinhole leaks).
b) a single large radiator, mostly seen on the Sachs B805, without any expansion tank
c) a single large radiator, with an unpressurised expansion tank (which is the one I have). These were fitted later in the production run and retrofit was available AFAIK
Short story is;
drain,

blow out hoses and radiator with garden hose (sacrilege, but quicker than another run/cool/drain step with distilled water) 

fill with flushing fluid, 

get up to temp, 

let cool (and/or spray garden hose on outside of radiator to hurry the cooling along)

drain flushing fluid, 

blow out hoses and radiator with garden hose

fill with coolant, 

get up to temp, 

make sure fan clicks on/off and check for leaks

Test coolant for temperature protection (in case too weak)

Keep eye on fluid levels a bit more frequently as riding may loosen a few more air pockets.

Longer story;
First off, these radiators are unobtainable, so make sure you look after yours. I received quoted to recore/remake mine (11 inch x 11 inch x 1 1/4 inch core)
at around £400. Shortly after a drop on K-seal to address a tiny pinhole lean in the radiator (it worked brilliantly), I saw overheating when ridden moderately fast and overflow from expansion tank. Less than 1000miles since coolant change and new radiator cap.
Secondly, most likely to fail is the 1 Bar radiator cap, which is a BIFFI PREMOLI part number 50501. They wont sell direct to public and after much homework I learned
Aprilia pn 861229 is the same part. 
Thirdly, if your expansion tank needs replacing, then it's the same as on a Reiju 50cc MRT or RS1 (check pictures online). If you have the pressurised expansion bottle, I know of at least 1 owner who had an aluminum expansion tank made to eliminate this weak spot in the system.
The draining and refilling is the same as the VS800 intruder, with just removing the lower radiator hose into a bucket. A garden hose blowing through the lower hose is enough to overcome the thermostat spring and flush. I did have distilled water available, but I figured not critical as I wanted the pressure to blow out remaining radiator sealant (K-Seal).
There was no vacuum/caving of the lower radiator hose and when flushing, so the radiator didn't seem blocked. 
The flush went well with a lot of K-seal sediment settling in bottles I collected the waste in and the tiny leak remaining fixed.
I used Prestone Flushing fluid, which is citric acid based, which I thought would be good at dissolving the K-Seal oilyness. I ignored the 45-60minute idling recommendation with
flushing process as I think it was more relevant for cars and I wanted to avoid the flushing fluid eating away aluminium of the fine radiator channels. A light fizzing was observed
from the radiator cap hole, then closed and allowed to get up to temperature and pressure.
I observed coolant overflowing out of the expansion tank lid and the problem appeared to be a the new radiator cap wasn't holding any pressure. Perhaps it was a dud radiator cap,
and perhaps K-seal got into it's internal workings. With a new radiator cap, the cooling system returned to working perfectly and even noticed taking a bit less time for the
fan to click to off position again.
Lessons- Don't leave K-seal in your system. I used the recommended amount and 4 bottles of the below pictured sludge came out. K-seal worked great, but I think it killed my radiator cap.
Inspecting the waste coolant/flushing containers a few days later, the amount of crap that settled was a surprise.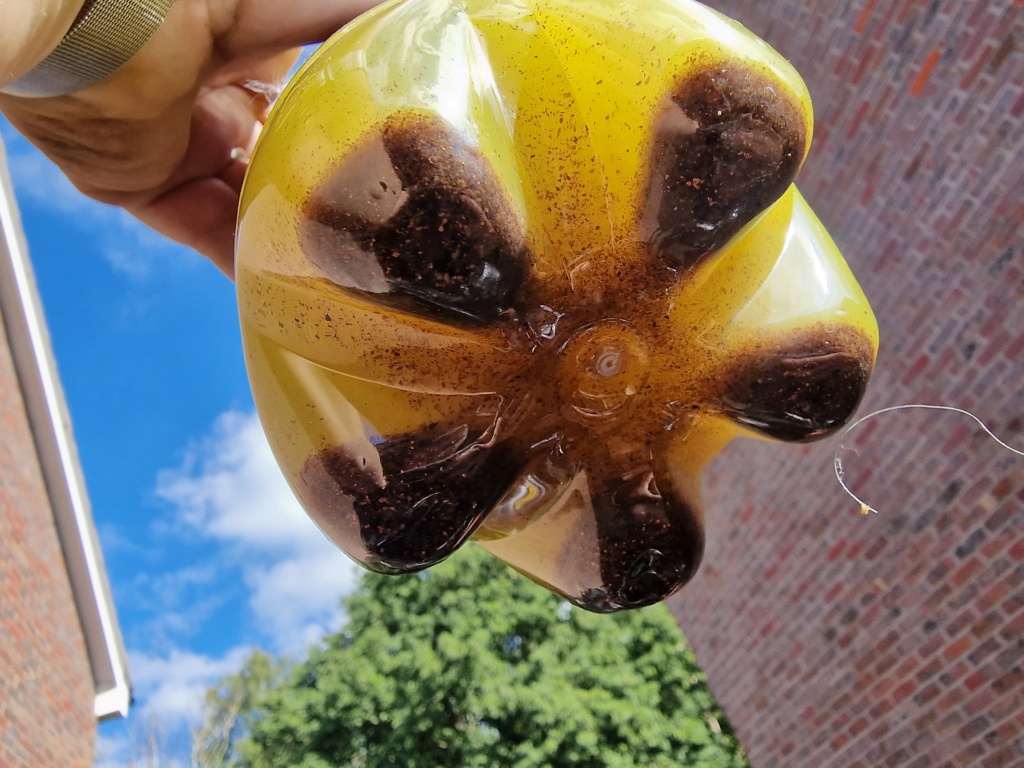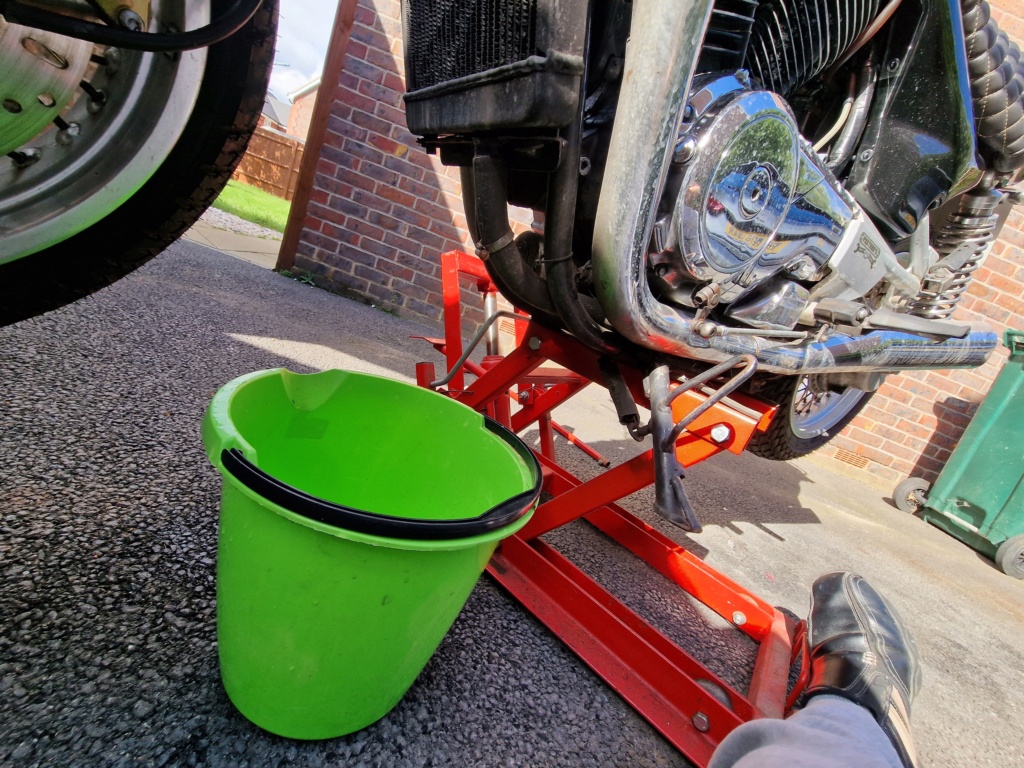 That's all for now. Ride safe